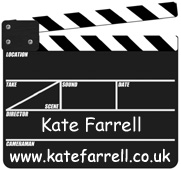 Curriculum Vitae
| | |
| --- | --- |
| Name | Kate Farrell |
| Email Address | cv@katefarrell.co.uk |
If you need more details please contact me at cv@katefarrell.co.uk
Education
University of Edinburgh: Postgraduate Certificate in Education (Secondary) Computing (2004 to 2005)
Edinburgh's Telford College: HN Certificate in Introduction to Teaching in Further Education (2003 to 2004)
University of Exeter (2003 to 2004)
Subjects studied were Database Design and Structured Query Language (SQL)
Open University: BA Hons (2:2) (2002 to 2003)
Subjects studied were D318: Culture, Media & Identity (2002) and AA310: Film & TV History (2003)
University of Edinburgh: BSc in Psychology and Artificial Intelligence (1994 to 1997)
Subjects studied include social psychology, cognitive psychology, human computer interaction, natural language processing, linguistics, and computer science.

Current Employment
Currie Community High School: Computing Teacher (August 2005 to present)
I currently teach Computing at secondary level. I have responsibility for teaching Intermediate 1 and 2 ICT core skills to S1/S2 pupils, three Standard Grade classes (two S3 classes and one S4 class), and a S5 PC Passport class. I also work with other teachers in the school to teach Intermediate 2 and Advanced Higher Computing, and Education for Sustainable Development. I am also involved with extra-curricular activities through running a sign language club for staff and students, teaching first aid to pupils working towards the Duke of Edinburgh Award, playing in the wind band, and assisting with musical evenings and school shows.
Edinburgh's Telford College: Lecturer (September 2003 to present)
Working as a part-time evening lecturer, I am solely responsible for teaching Media Studies at Higher level to community education students and full-time students at Telford College. This involves teaching practical filmmaking skills, analytical skills, and studying a wide range of films, television programmes and adverts. I have also taught filmmaking skills to adults with learning difficulties as part of Telford's 'Pathways' programme.
Scottish Screen: Lead Practitioner in Moving Image Education (June 2004 to present)
I am working on a consultancy basis with a large team of professionals from both the education sector and the film industry. We are providing training and support to schools and councils in moving image education. We have designed the courses to address core priorities in 5-14, especially language/literacy, ICT and expressive arts. The courses use analytical and creative teaching methods, and combine the analysis and creation of moving images, and the exploration of moving image culture.

Previous Employment
Donaldson's College for the Deaf: Video / Multimedia Co-ordinator (November 2001 to August 2004)
As Video / Multimedia Co-ordinator I organised and maintained all the audio-visual equipment in the College, including video-conferencing equipment. In addition, I worked with the IT Manager, advising and assisting with ICT and network issues. I was responsible for filming and editing educational videos in sign language. I developed educational resources in a range of formats, such as cards, posters, web pages, videos, and graphics. I was involved in a literacy project, and built up a resource of BSL photos for a special needs program called 'Clicker' for use across the whole school.
I was involved in organising and running exams and prelims, including special assessment arrangements for Deaf candidates. This involved writing guidelines for signers and candidates, and arranging equipment to film all candidates in exams. In addition to this, I advised other schools and organisations on technical aspects of providing access for Deaf students, such as subtitling. I was also a Union Steward with UNISON.
COSLA (Convention of Scottish Local Authorities): Web Services Manager (September 2000 to November 2001)
I managed all of COSLA's Internet and Intranet sites and co-ordinated the planning and design of a new organisational website. At COSLA's Annual Conference, I arranged the launch of the new website, a live internet broadcast of the three day conference, and an internet cafe for the delegates to view the site. To achieve this, I worked with staff from the Scottish Parliament, BT, Microsoft, Mediawave, and SX3.
I trained staff content providers in how to use the content management system and how to understand and write basic HTML. I was also responsible for developing and maintaining a comprehensive set of design standards and guidelines for the website, and providing regular monitoring reports on the performance and usage. I was also responsible for advising Scottish Councils on web-related issues.
Napier University, Department of Psychology & Sociology: Senior Technician (May 1998 to September 2000).
I supported teaching in various settings, assisting with psychological experiments and tutorials. In addition, I taught essential computing and web skills to new students. I designed, developed and maintained the department's web site, as well as maintaining online teaching and flexible learning materials. I was also involved with the setting up of a new research centre, the International Teledemocracy Centre, where I provided technical advice to both major partners in the Centre (Napier University and BT Scotland).
Other responsibilities included: training and assisting staff and students with software; resolving computer and network problems; and maintaining the departmental computing and psychology labs. I was a member of the University Health and Safety Committee and the University Communications and Information Technology Infrastructure Committee. In addition, I was a Union Steward with UNISON.
Stocktrade, Edinburgh: PC Network Support (June 1997 to May 1998).
I was primarily in charge of Business IT Support, although I assisted with other areas of IT support including network and telephone support. I developed and maintained Intranet and Internet sites for the company. I was responsible for system support, administration, and IT training, which included writing training materials. Other responsibilities included: purchasing and installing PC hardware and software; server management; and administration of online services.
Conference Papers
Dr. George Montgomery and Kate Farrell (2002) "Characteristics of Deaf Consumers Relevant to the Provision of Appropriate Access to Media Services." Paper presented at the ICWE International Conference on "Languages and the Media", Berlin, December 2002. I also participated on a panel discussion on "Screen Translation for the Deaf and the Hard-of-Hearing".
Language
British Sign Language CACDP Stage 2, (1999)
While at Donaldson's College I assisted with BSL interpreting and communication work in a variety of situations, such as staff meetings, review meetings, classroom work, and training events. I have also interpreted First Aid courses into sign language, working with deaf students and assisting with lectures and practical sessions.
Community Involvement
British Red Cross: First Aid and Emergency Response Volunteer (1996 to present)
I have been a volunteer with the British Red Cross since 1996, working at a variety of events including the Edinburgh Hogmanay Street Party, raves, theatre performances, and other public events. As an Emergency Response volunteer I am trained to assist at major incidents such as floods, fires and crashes, and have attended multi-agency training exercises. I have also been a member of the Lothian Competition Team participating in the National First Aid Competitions and the European Red Cross Competition held in Italy.
References
Please contact me at cv@katefarrell.co.uk for details.
This page was last updated by Kate Farrell on 28 October, 2005